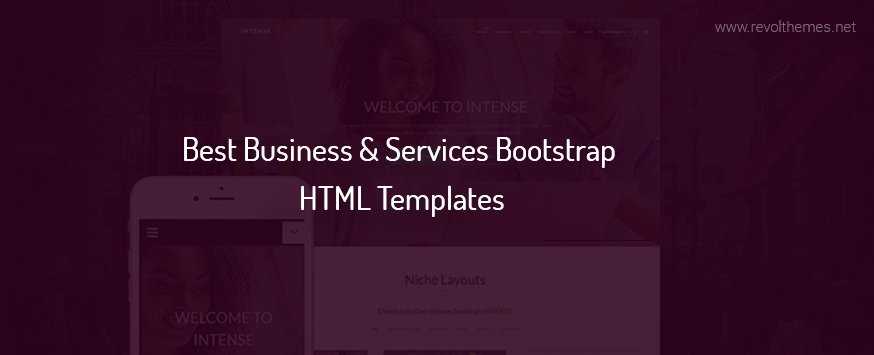 Spring has already replaced winter with its warm weather, joyful mood, and bright colors. It's time to refresh your online-project, too. It's time to make your business prosper as flowers in the green garden. If you think about breathing a new life into your website, you should not click off this article. It consists of the most popular and well-favored business website templates that will make your website flourish and attract as more engaged customers as possible.
Why Do You Need a Business & Services Website Template to Build a Website?
You can do your best with a search of professional web-designer who will create your website from scratch. Or you can take an advantage of various ready-made website templates that won't limit you in their choice. You can find a large number of premium templates that come together with a wide spectrum of customization options. It's possible to work with colors and typography in order to make a website that will present your services in the best possible light and match your individuality. In such a way, you can be sure that your website will become a face of your company. In addition to this, all of these splendid templates will attract your potential visitors with their information-oriented design, nice-looking pre-made HTML pages, and various social options.
As you can understand, if you're ready to meet a challenge of building a professionally-looking website, you should certainly do it together with one of these stunning themes. In such a way, you will get a chance to present your information in a brand new way, make your customers adore your website and visit it again and again.
We think that now you cannot help but wonder what kind of template we have prepared for you. Okay, we won't eat up the clock. Let us look at them and their wonderful functions here and now…
Intense – Remarkable HTML Template
Intense is a game-changing template that allows every possible niche make a stir on the web thanks to a wonderful set of options. To start with, you will get the opportunity to make use of 500+ HTML pages, various reusable elements, eye-catching blog and portfolio layouts, header and footer variations, and other options. In addition to this, together with a powerful social integration, it will be possible to reach out to thousands of people. Finally, such features as multiple hover effects, smooth parallax scrolling, and sticky menus will certainly capture the attention of your target audience.
Transitec – Powerful HTML Template
Are you an owner of the transportation company who thinks that it would be nice to promote provided services and their advantages on the Internet? With the help of this convincing template, its nice-looking pages, engaging animation effects, and multiple gallery types, you will be ready to present your business in the best possible light. Furthermore, a wide range of excellent web forms and a marvelous live search will make it more pleasant to visit your website.
Quaint – Excellent HTML Template
Quaint is a brand new theme that comes alongside with a minimalist design, incredible pre-made pages, and stunning layouts that will make it possible to launch a highly-professional website. By means of the captivating parallax effect and video background, it will take you nothing to catch the eye of people and make them admire your online-project. In order to brighten up your website, you can also select the most attractive and eye-catching header among multiple types of them.
Cargo Express – Marvelous HTML Template
Do you want to present an unlimited potential of your delivery services and make everyone choose only your professional company? With the help of seven blog layouts, you will be able to create a tailor-made look of your website and make people read your articles with a great interest. A wide variety of working forms will allow you to attract more customers due to credibility of your company and its services. Moreover, multiple types of animations and gallery types will make your website more eye-catching and noteworthy for your core audience.
Finance Group – Exciting HTML Template
If you have something to do with accounting and audit, you should certainly choose this theme that will upgrade your business. Together with a vast number of ready-made HTML pages, you will be able to showcase the most important aspects of your company at their best. Furthermore, modern Google Fonts, content-oriented blog layouts, and parallax effect will freshen your website up and impress a lot of users with its brightness.
Your business and services website will play out in fresh colors thanks to one of these professional and remarkable templates. Be sure to grab one of them here and now in order to impress your target audience. Thanks for reading!